Interview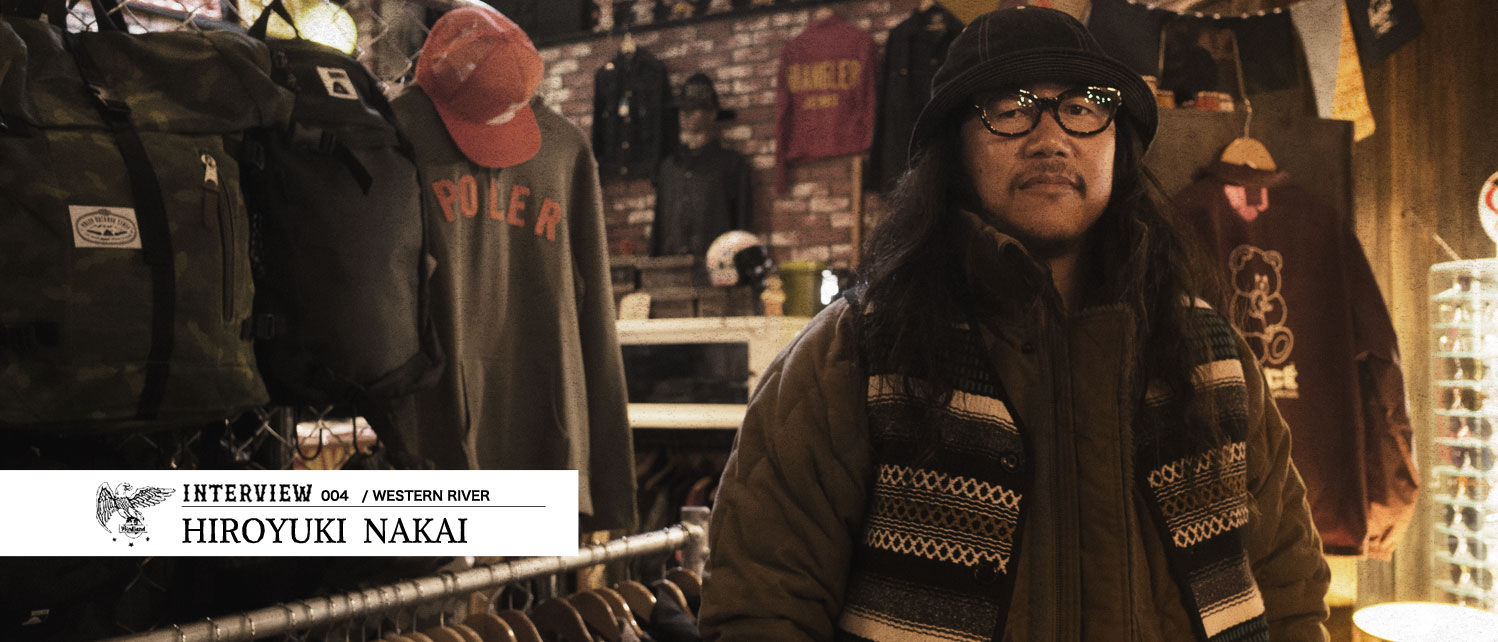 This time Featured Person, Mr. Hiroyuki Nakai representative of WESTERN RIVER EXPRESS.He launched select shop "WESTERN RIVER" from Niigata, and just got a flagship store in Tokyo last year for the original brand "WESTRIDE".What is "now" by Mr. Nakai who is active as SPA (manufacturing retailer).
今回のFeatured Personは、WESTERN RIVER EXPRESS 代表 中井浩之氏。新潟発のセレクトショップ「WESTERN RIVER」を立ち上げ、昨年オリジナルブランドの「WESTRIDE」は、東京都内に旗艦店を出したばかり。SPA(製造小売業)として活躍する中井氏の "いま"とは。
Photo TAQUEE / Composition & Text BIRDLAND / Translation HISAO ISHITANI
楽しい事、良い物を次の世代に残したいんですよ。
I want to leave fun things and good things to the next generation.
 近年Social networkが浸透し世界が近くなった事で地方から発信する人間や会社も多くなってきたが、中井氏は、26年前に大手ジーンズメーカーからキャリアをスタートさせ、地方で古着屋を始めた「WESTERN RIVER」。地元へ発信していた店舗がいつのまにか世界を見ながら、25周年を迎え東京に旗艦店を出すまでに至った。すでに海外オフィスも構えており、常に旬な情報の調達や商品の開発を行っている。
「東京に出店するという事とは。」「決して会社を大きくしたいとは思っていないんだよね。」「大切なのはお客様に WESTERN RIVER を楽しんで頂けるかどうか。」「ネットだけじゃ無いよね。良いモノってのはさ。」
 様々な問いに素直な言葉が返ってくる同世代の中井氏は、やはり魅力溢れる人物だった。
In recent years the social network has penetrated and the world has become close, so people and companies that originate from the local district have become more popular, Mr. Nakai started a career from a major jeans maker 26 years ago and opened a clothing store in the local district "WESTERN RIVER". While seeing the world unexpectedly, the shop that had been sending to the local district celebrated its 25th anniversary and has reached the flagship store in Tokyo. Already has an overseas office and constantly procuring seasonal information and developing products. 「What does it mean to open in Tokyo」「I never thought that I wanted to make the company bigger」「What is important is whether the customer can enjoy WESTERN RIVER」「It's not just a net. Good things are」 Mr. Nakai of the same generation who returned honest words to various questions was attractive person.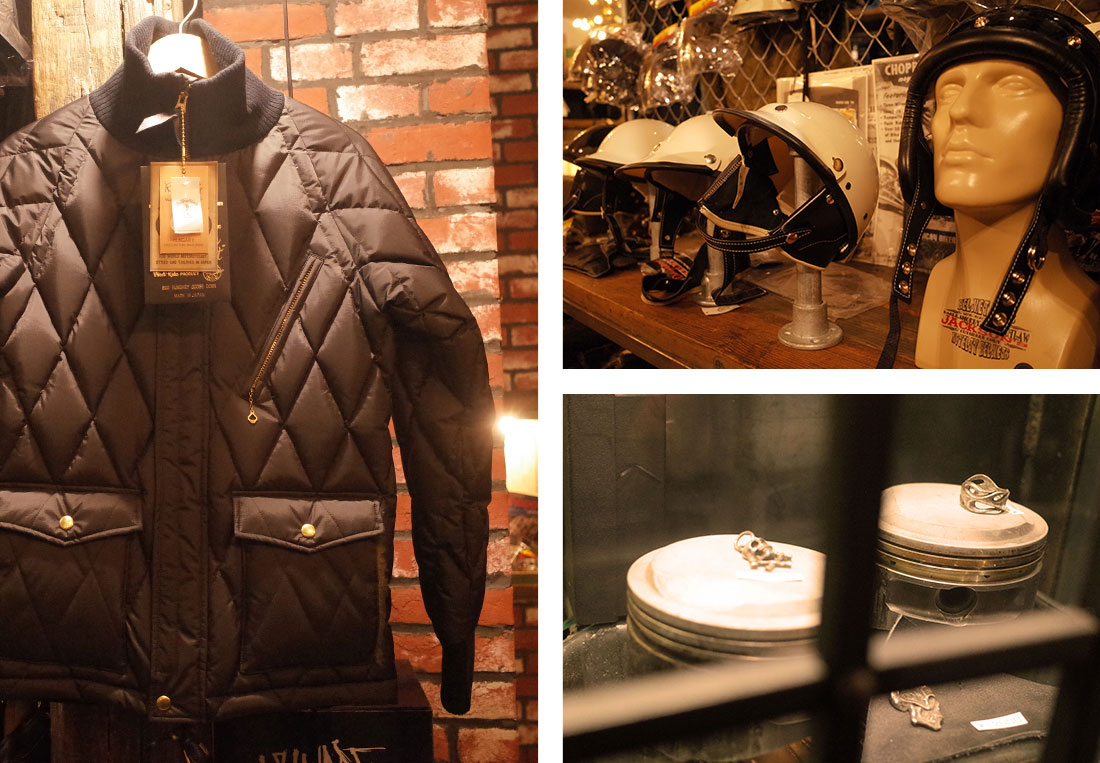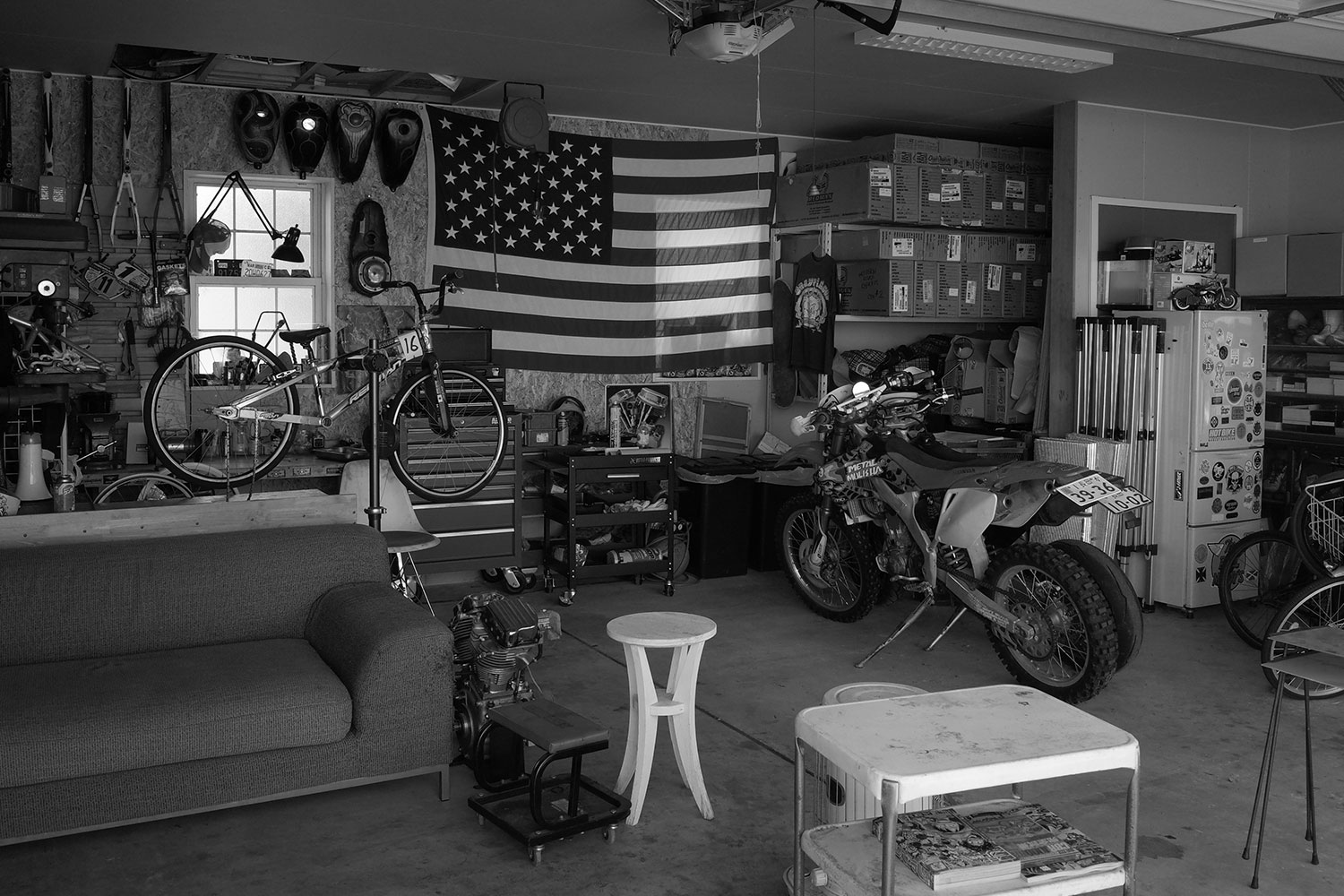 日常にあるオートバイがコンセプト
Motorcycles in everyday life are the concept
 いままで中井氏が経験して来たバイクライフや、アメリカンカルチャーが根底にあり、日常化した中にオートバイがいて、ファッションもある。「こんな自然なライフスタイルを体現している人がいるんだ。」と感じずにはいられない。この広い店舗の細かなところにも中井氏を感じる事ができる。
「オリジナル商品だけあっても楽しくないしもっと色々な商品をお客さんに手にとって見てもらいたい」広い店内は迷路のような構成になっておりちょっとした宝探しのような気分を味わいながらオリジナル商品や国内外からセレクトされた商品を選ぶ事が出来る。店内にディスプレイされた物も以前の店舗から持ち込んだり、更には施工も自分達で行ったりと驚かされる。地方発のブランドだとお客さんも不安でしょう?」
 そんな理由で、東京にはオリジナルがメインの「WESTRIDE TOKYO」を作ったそうだ。
Mr. Nakai has experienced bike life and American culture is the foundation, there are motorcycles in the everyday life, there is also fashion. I can not help feeling that 「There is a person who embodies such a natural lifestyle.」. You can also feel Mr. Nakai in details of this wide store. 「Even if there are only original items, it is not fun and I want to make customers see more various products」The interior of a large store is like a labyrinth and you can choose original goods and products selected from domestic and overseas while tasting the feeling like a little treasure hunt. I was surprised that they brought things displayed in the store from previous shops, and even carried out construction by themselves. 「Are customers uneasy if it is a brand from a province?」For that reason, he made 「WESTRIDE TOKYO」 which is the shop where the original item is main.
WESTERN RIVER WESTERN RIVER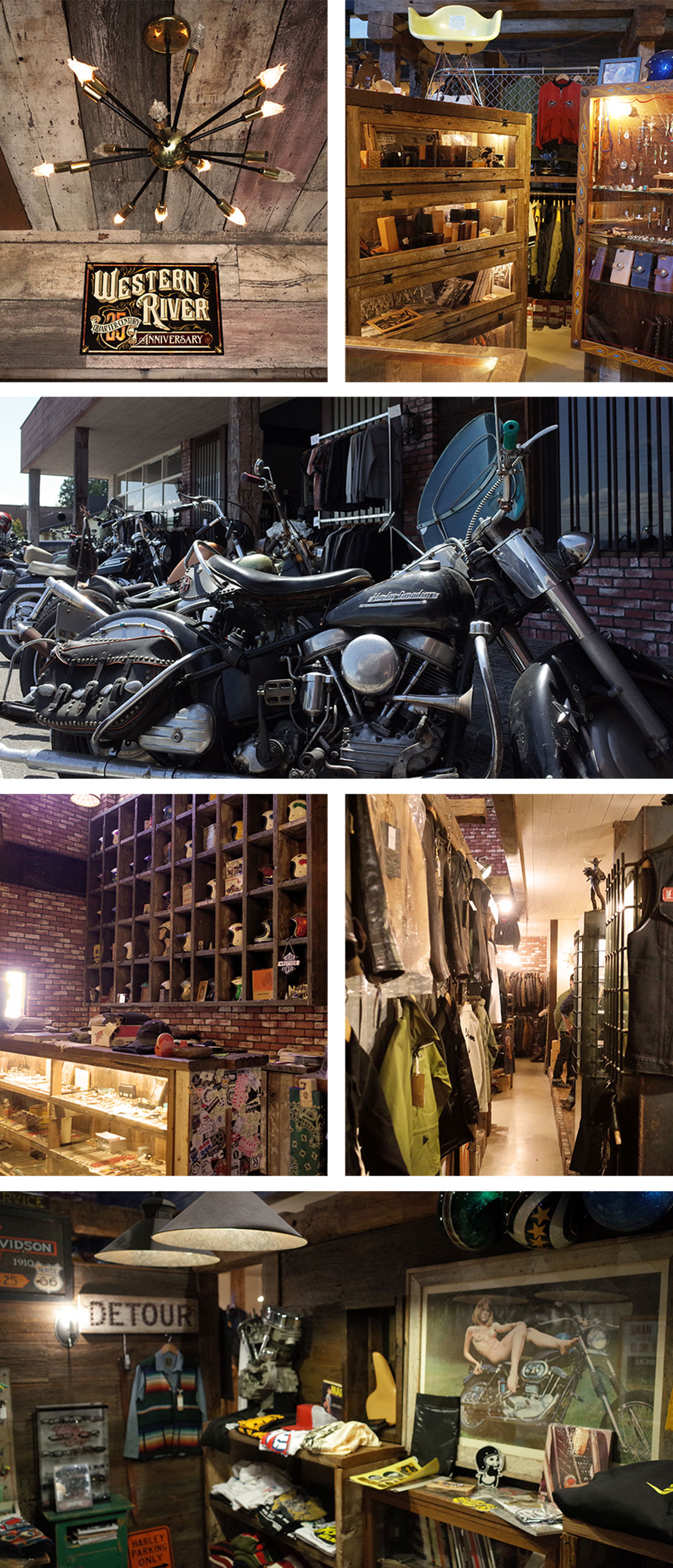 しかし、始めた当初は大変だったようだ。田舎の田んぼだった場所に店舗をゼロから作り、環境と時代と地方という中で作り上げてきた「WESTERN RIVER」。今となっては市外や県外からツーリングの目的地として訪れる人や地元のファミリーも訪れるほど充実した場所となっている。大きな敷地の中には、ステーキが人気の店「BIRDS INN CAFE」や、雑貨・家具等の「SPACE COWBOY+」が併設され一つの街のような印象である。
「オートバイOnlyではなく、日常の中にあるオートバイがテーマなんだよね。でも最近、洋服が好きな人が減っている気がする。例えば折角のツーリングなんだったら着る物にも拘りを持って楽しんで貰いたいよね。」
話を聞いてる中で、バイク乗りには嬉しい情報として、「うちで買い物した商品は、手荷物と一緒に無料で配送できるから。」と笑顔でひとこと。バイク乗りにはとことん優しい。
However, initially it seemed to be difficult. They have built store in the rural paddy field from scratch, and created them in the environment, era and region "WESTERN RIVER". It is now a fulfilling place to visit visitors and local families as a destination for touring from outside the city and from outside the prefecture. Among the large sites, impressions like a city are the same as those of a city where steaks are popular 「BIRDS INN CAFE」, sundries and furniture 「SPACE COWBOY +」.
「Not only motorcycle, but motorcycles in everyday life are the theme. But recently, I feel that people who like clothes are decreasing. For example, if it is a touring of a point of sight, I would like to enjoy holding items to wear.」 While listening to the story, as a happy information for motorcycle riders, 「Because items shopping at our shop can be delivered free and also baggage too」 says with one big smile. It is very kind for motorcycle riders.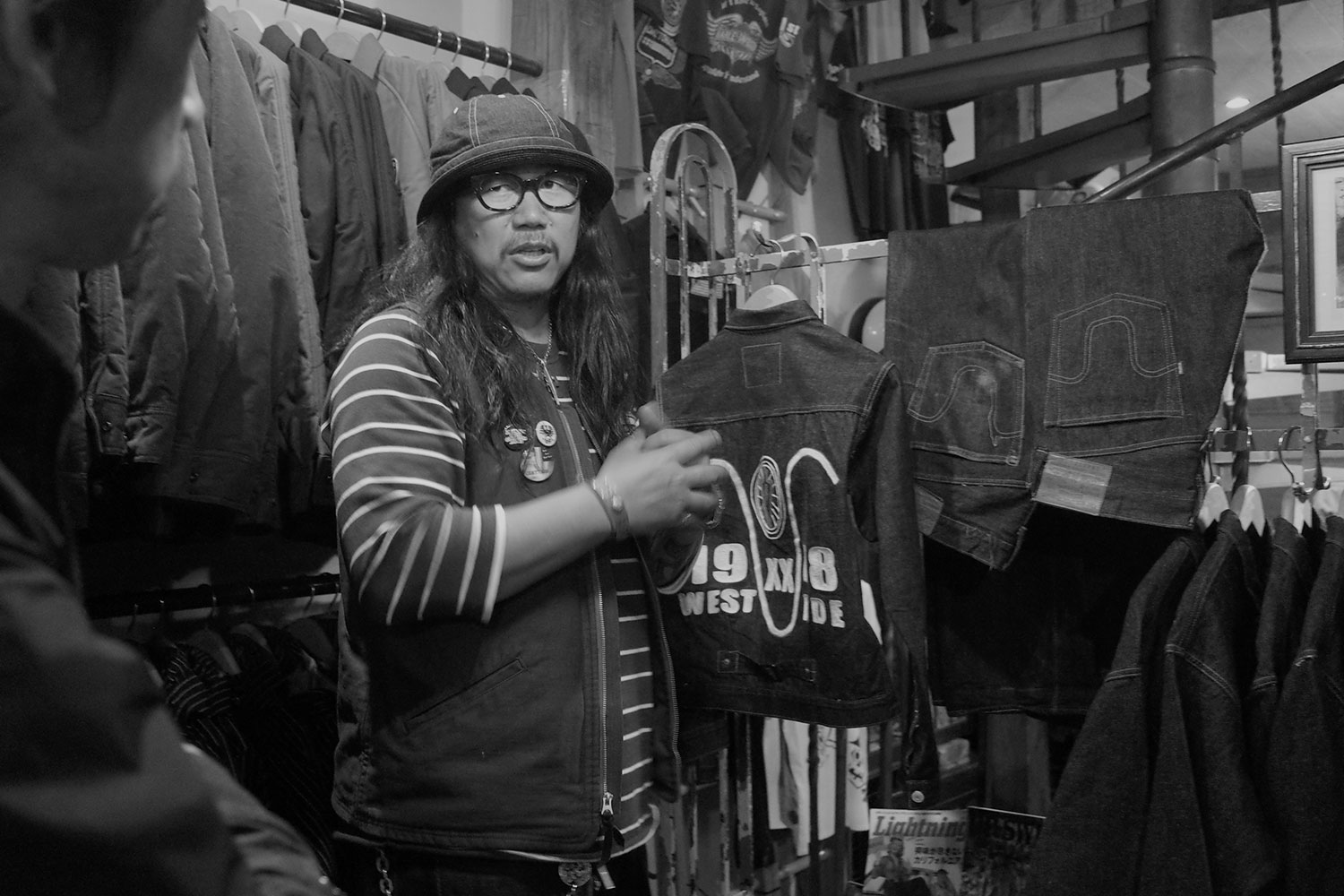 48 PAN HEAD への
オマージュなんだよね。
This is hommage to the
48 PAN HEAD.
 根っからの洋服好きで接客が好きな中井氏。同社ではネット販売を行う傍ら、通販禁止の商品も存在するのも拘りを感じさせる。接客を大切にしたいとの思いが募り、形にしたのが通販禁止の縫い手がワンマンのデニム、[ THE ORIGINAL DENIM ]である。
「ネット販売だけだとやっぱり寂しいよね。他の卸さんもネット販売やるでしょ?いろんな形で商品が世の中にでるよね。そんな中でもやっぱり店頭に来てもらいたいし、自分たちがどんなモノを作っているか知ってもらいたいよね。」
 そのジーンズの1日の生産量は僅か2本。現在1年待ち。48年製の501と全く同じ縫製でバックポケットのステッチはヘリングスのハンドルがモチーフ。生地の倒し方やミシンの入れ方一つにも拘りがある。なぜ当時はそうしたのか?だからこうなるのかと考えながら、戦前のミシンを使い全ての工程を一人の職人によるハンドメイドという形で作られるジーンズは個体差があり各々に表情も異なる。
「だから説明が必要なんだよ。安くはないから。」通販が出来ない事を笑顔で、時折ジョークを交えながら説明してくれる中井氏は接客の醍醐味を改めて教えてくれた。
Mr. Nakai likes hospitality because he likes clothes in nature. At the company, while selling the net, there is also a commodity that prohibits mail-order sales also make me feel insistent. A desire to cherish hospitality is recruited that prohibitits mail-order sales of one-man sewing denim [THE ORIGINAL DENIM]. 「As long as it is only online selling, I feel lonely. Other wholesalers will do online sales, will not they? Products are in the world in various ways. Even so, I would like to have them come to the store after all, and I want them to know what we are making.」. The daily production of the jeans is only two. Now waiting for one year. The jeans is exactly the same sewing as 501 made in 1948 and stitch of back pocket is motif of Hellings handle. One way to defeat the dough and how to put the sewing machine. Why did it do so then? So while considering whether this is the case, jeans made in the form of handmade by one artisan using pre-war sewing machines have individual differences and expressions are different for each. 「That's why I need an explanation. It's not cheap.」 Mr. Nakai explained me with the smile that things can not be mail-ordered, and occasionally explain it with a joke, and once again taught me the best part of the customer service.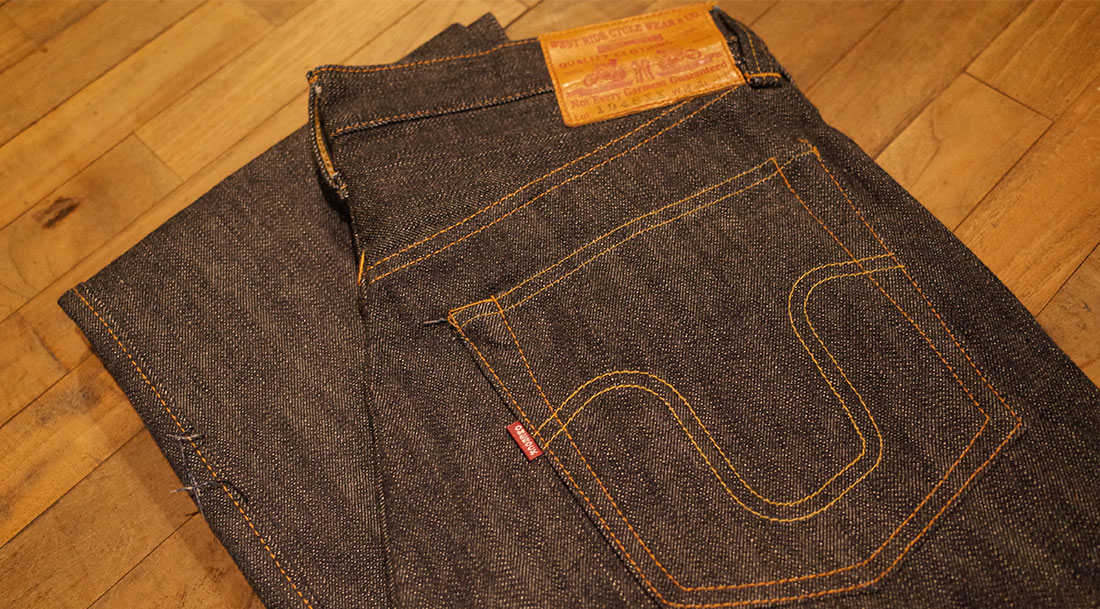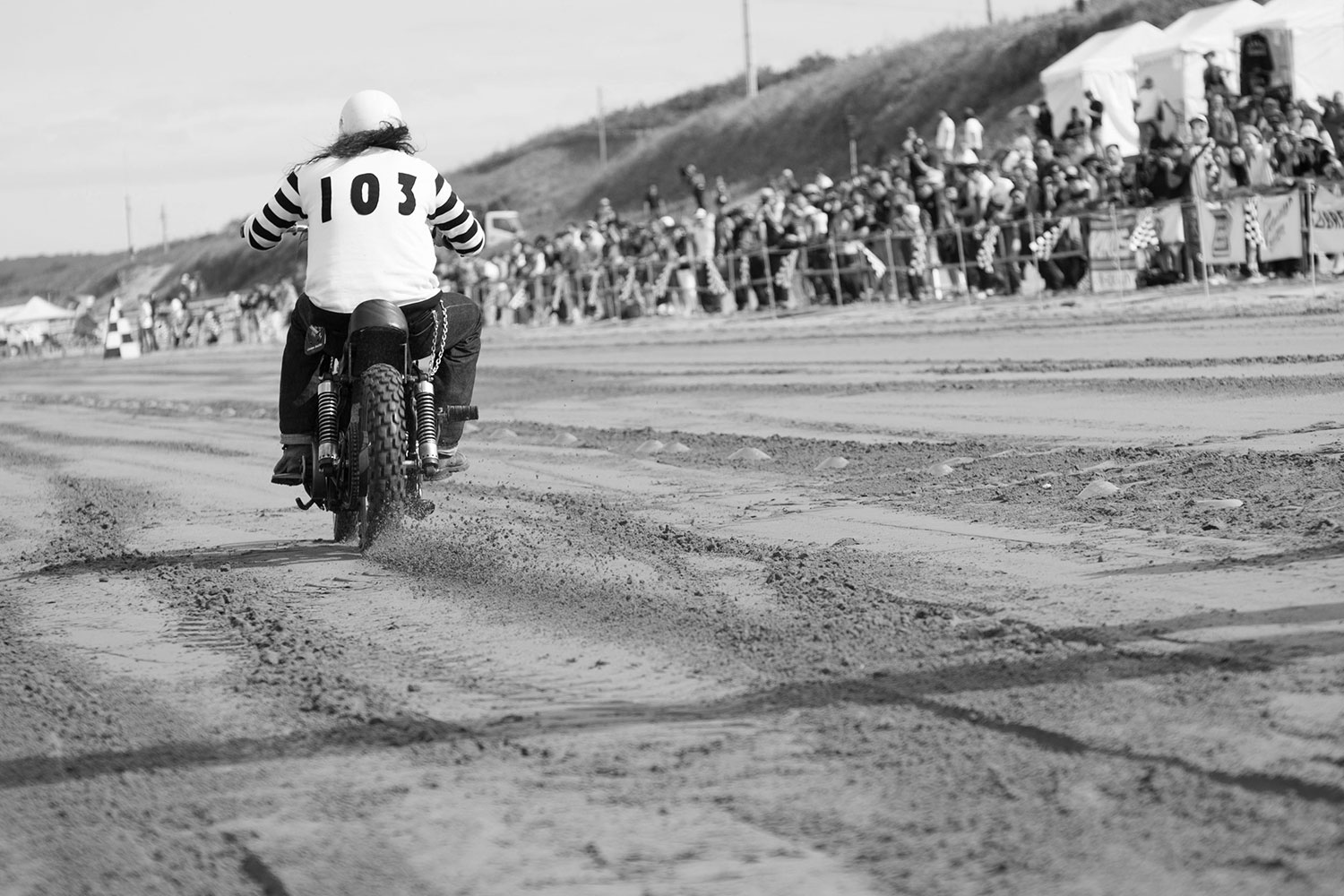 やっぱり千里浜は楽しいよね。
As expected, CHIRIHAMA is fun
 16才からバイクに触れモトクロスレースを始めVT250で峠を攻めたり鈴鹿8耐に熱くなったりと80年代のバイクブームを体現した世代。昨年は、千里浜Sand-Flats に58年のPAN HEADで参戦。
「こいつはさ23年前に乗っていて、その後放置していたエンジンだったんだけど、別でフレーム持ってきて、どうにか前日に友達と組み上げて走ったんだよ。今日は朝から公道仕様にキャブのセッティングをしてたんだ。」「この辺はツーリングしても楽しいよ、能登半島まで行けば更に緩い雰囲気だし魚は美味しいし。」
 そんな話をしながらガレージを見せて貰った。男だったら羨ましいのひとこと。自宅にこの広さのガレージがあり、家の近くにはBMXコースもある。遊び場だらけである。ガレージ前にも数台のバイクやスケボーが並ぶ。インタビューの時も子供が仲間とつるんで遊びに出かけて行った。ふと自由だなぁと勝手に思ってしまうほどの環境がここにはある。
From the age of 16, I took a motocross race, began attacking the pass with VT 250 and getting hot in Suzuka 8 hour endurance race and the generation that embodied the motorbike boom of the 1980's. Last year, I joined the Chirihama Sand-Flats with 58-year PAN HEAD. 「 I was riding 23 years ago and engine had left behind, but I brought a separate frame and assembled somehow with my friends on the day before the event day and ran. I was setting the carburetor to the public road specification from this morning. 」 「It is fun touring this neighborhood, if you go to the Noto Peninsula you will have a more relaxing atmosphere and the fish is delicious.」 While talking about such a story I got shown the garage. One person who is envious of being a man. There is a garage of this size at home, BMX course is also near the house. There are plenty of playgrounds. Several bikes and skateboards lined up in front of the garage. Even at the time of the interview, the child hung out with his colleagues and went out to play. Here is the environment where you think freely that you are free.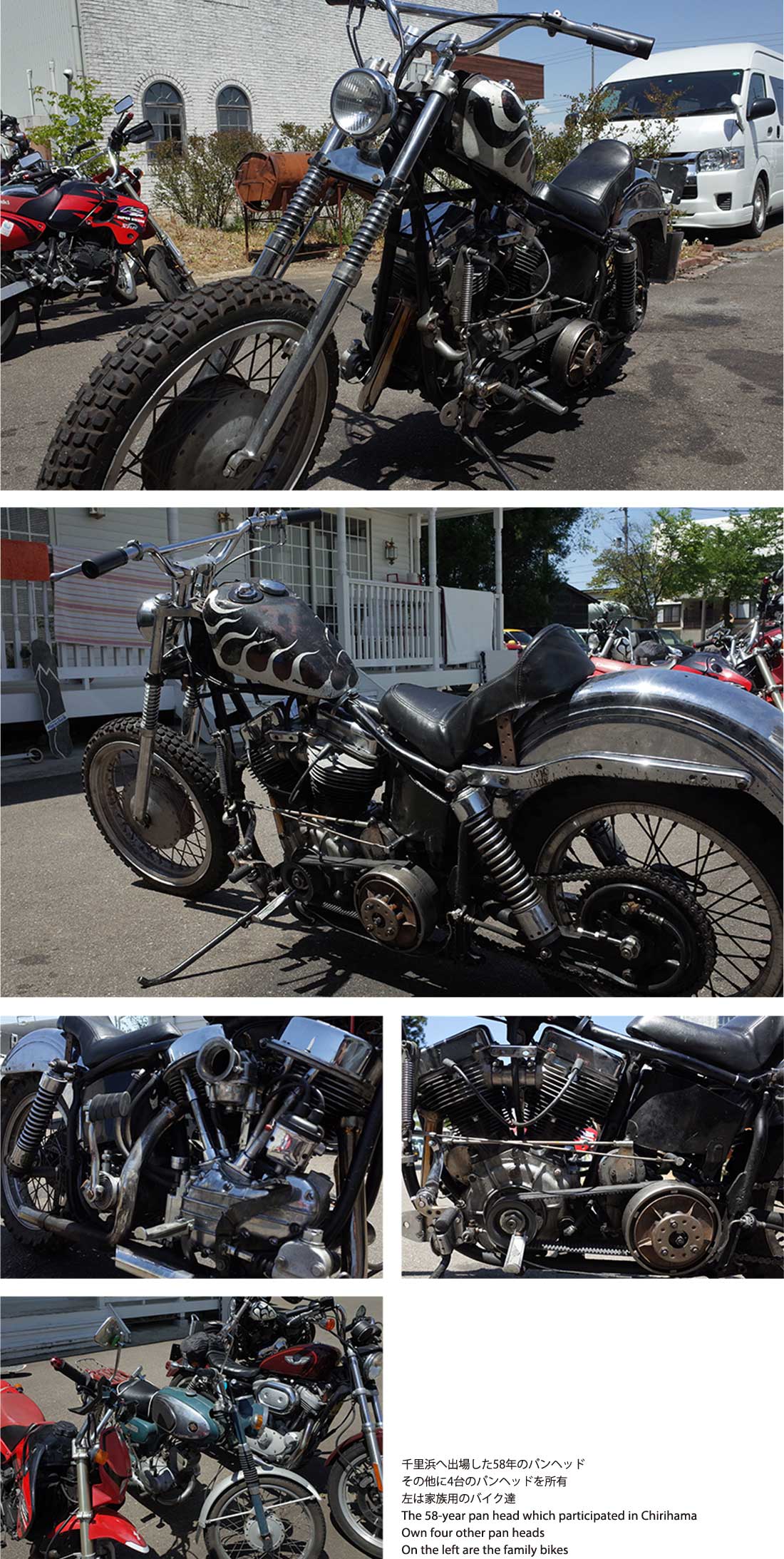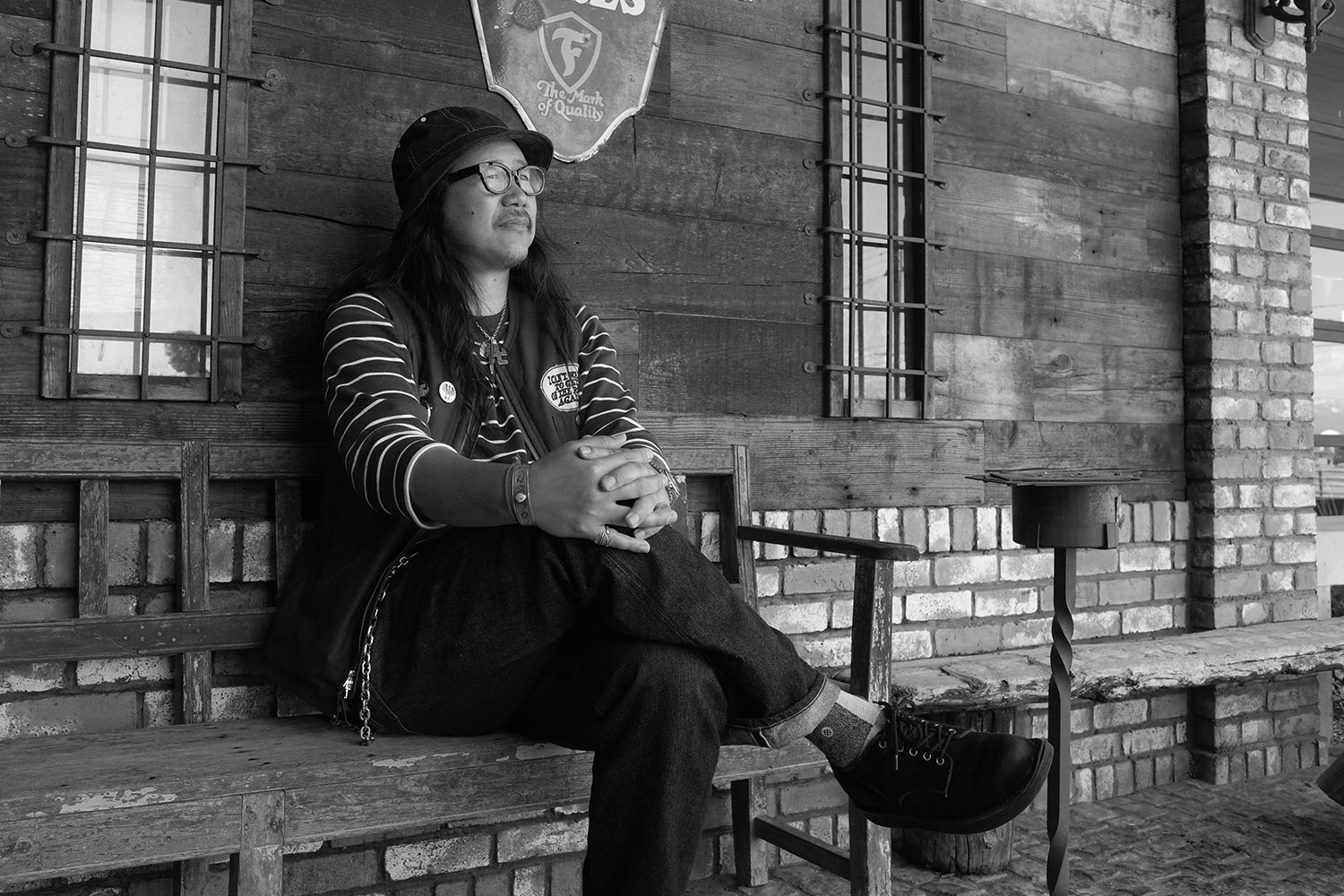 地方からでも楽しい事は十分発信できるよ。
I can transmit enough things from rural areas
WESTERN RIVER

新潟県上越市飯1410-3


1410-3 Ii, Joetsu-shi, Nigata

TEL:025-526-2415
OPEN:11:00~20:00
Close:ツイッターにてお知らせ / Notice by Twitter

▶大きな地図を見る
WESTRIDE TOKYO

東京都目黒区下目黒6-1-26-103


#103 6-1-26 Shimomeguro, Meguro-ku, Tokyo

TEL:03-6451-2265
OPEN:11:00~20:00
Close:ツイッターにてお知らせ / Notice by Twitter

▶大きな地図を見る